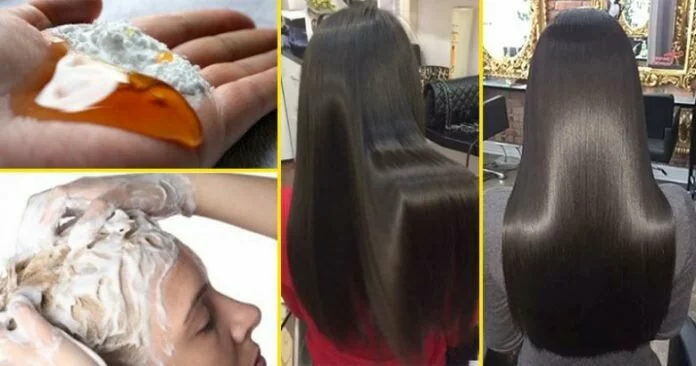 Every woman wants to have smooth and silky hair. Short or long, curly or straight—shiny hair always gives a good impression.The outer layer of healthy hair contains natural oil to keep it moist and shiny. When this layer is damaged, your hair will look dull, unhealthy and dry.
Some of the factors that contribute to dull hair are illness, nutritional deficiencies, use of harsh hair care products, not using a good conditioner, over exposure to sun, frequent use of hair dyes, age, excessive stress, high mineral content in the water, chlorine in swimming pools and use of heating tools.
Soft and shiny hair takes a bit of effort. Proper hair care is the only way for both men and women to get shiny, silky and smooth hair.
Most of us use numerous branded conditioners, shampoos and serums to add a beautiful shine to our hair. But over time, these products can do more harm than good. Instead of using commercial products, you can try some simple and natural remedies to make hair smooth and shiny.
Here are the top 10 home remedies for shiny hair.
EGG.
Eggs are perhaps one of the best ingredients to provide nourishment and shine to your hair in minutes. Being a good source of protein, fatty acids and lecithin, eggs help repair damaged and dull hair by adding moisture and shine. Eggs also help make your hair strands strong and thick.
Mix one egg white and one tablespoon each of olive oil and honey until you get a smooth paste. Apply this paste on damp hair and scalp. Cover your head with a shower cap for about 30 minutes. Then wash your hair with a mild shampoo and cool water.
Beat two eggs until you get a foamy texture. Mix in two tablespoons of almond oil and one-half cup of yogurt. Apply this mixture on your hair and scalp. Cover with a shower cap for 30 minutes and then shampoo your hair with cool water.
Follow either of these egg treatments once a week to get soft and shiny hair.
Note: Never rinse your hair with hot water after using an egg mask. Hot water will clot the egg and it will be very difficult to wash it out of your hair.
Coconut Oil
To get shiny hair, it is important to provide nourishment by applying oil to your hair regularly. Coconut oil (organic and unrefined) is one of the best options. It helps restore moisture to dry and damaged hair, in turn making it shiny and healthy.
Apply warm coconut oil on your hair, from the root to the ends. Massage for a few minutes and then wrap your hair in a shower cap or towel for at least 30 minutes. Rinse your hair with water, then shampoo and condition like normal.
Another option is to add a few curry leaves to two tablespoons of coconut oil. Heat it until warm. When cool, massage the oil gently onto the scalp and hair. Cover with a warm towel for 30 minutes and then wash with a mild shampoo.
Follow either of these remedies once or twice a week, depending on your hair condition.
You can also use olive oil, castor oil, or almond oil and follow the same process.
Apple Cider Vinegar
Apple cider vinegar is a fabulous hair conditioner that can make your hair soft, shiny and moisturized. It also helps remove built-up residue that makes your hair look dull and lifeless. Plus, it can help treat dandruff, itchy scalp and frizzy hair.
Mix together equal parts of apple cider vinegar and water. After shampooing, pour the mixture into your hair and massage it onto your scalp. Let it sit for a few minutes before rinsing thoroughly with cold water.
Alternatively, mix two teaspoons of apple cider vinegar and the juice of one lemon in one cup of water. Use this mixture as a final hair rinse after shampooing.
Use these remedies only once a week.